Leonard Hill murder: Family holds probation service responsible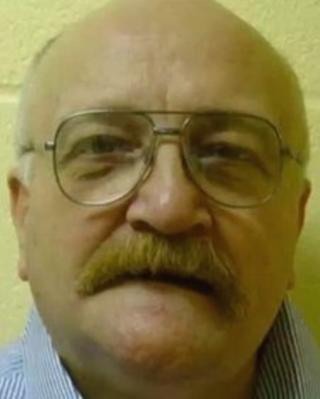 The family of a man killed by a convicted murderer at his Rhymney Valley flat say they hold the probation service responsible for his death.
David Cook will be sentenced at Newport Crown Court later for the murder of Leonard Hill, who he killed while out on licence for a previous murder.
Mr Hill's sister-in-law Carol Hill said: "I need lots of answers."
Wales Probation Trust, which has ordered a serious case review, offered its "deepest sympathies" to the family.
A statement added: "The review will look at how all the agencies in this case have worked together and will seek to identify whether there is any learning for the agencies individually or collectively in managing high-risk offenders.
"It would be inappropriate for us to comment further until the review is completed in order not to prejudice the outcome."
Cook, 65, killed Mr Hill, his 64-year-old neighbour, at his home in Rhymney, Caerphillly county, last June.
His murder trial heard he strangled Mr Hill with a flex after he was angered by unwanted sexual attention.
The trial heard the motive for the crime was Cook's debts of £5,838.
The jury was told that Cook had been convicted of the murder of a female Sunday school teacher in Reading, Berkshire, in 1988.
She had been bound and strangled with a ligature.
Cook, who was released on life licence in 2009, was moved to a property next to Mr Hill, whose sister-in-law Mrs Hill described as a vulnerable adult who had suffered mental health problems.
At the time Cook was being supervised by the Wales Probation Trust and a support worker.
Speaking after the trial Mrs Hill, who lives in Spain, told BBC Radio Wales: "Why would you put somebody like that next to somebody who wouldn't understand to be... wary of someone like [Cook]?"
She added: "He should never have been put there."
Mrs Hill said she was "disgusted" at the way Cook had been monitored.
"No one had looked into it," she said. "No-one had even looked into who lived next door to him and was he now vulnerable against attack by Cook.
"Because it seems [Cook] only had one way of dealing with any kind of problem and that was with violence.
"There's an inquiry going on now and it's the probation service I desperately need them to look into."
She said Mr Hill's family had met with the probation service and told them they had not fulfilled their duty of care to him or to the wider community.
"I feel they are utterly responsible and they know that," she said.
She added: "The failings lie with, firstly, whoever did the risk assessment when [Cook] was let out of prison, because in 2008 when he escaped from an open prison he was deemed to be dangerous. And then suddenly he's fine.
"I need to know whether the probation services knew he had all this debt. I need lots of answers."
Violent offenders
A serious case review has been launched into the matter, which was requested by the Wales Probation Trust.
The system that monitors the risks posed by violent offenders living in the community, Gwent Multi Agency Public Protection Arrangements (Mappa), is awaiting the results of the serious case review.
After the trial ended on Monday, Gwent Mappa said "important questions need to be answered regarding the circumstances that led to Mr Hill's death".
Wales Probation Trust is a member of Gwent Mappa.
Gwent Police said it hoped the serious case review minimised the risk of another offence committed in similar circumstances.
Harry Fletcher, assistant general secretary of NAPO, the probation and family court union, said it was a "terrible case, and it's quite right that there is a formal review into what's happened".
He said offenders released on probation were normally seen once a week during the first few months of the release.
"They are continually assessed and if there are any danger signs... normal practice would be to return that person to custody, and those are the issues that will be looked at during the course of the review," he said.
Cook will be sentenced on Wednesday morning.