Breakin' Out: Tinchy Stryder and alcohol ban at festival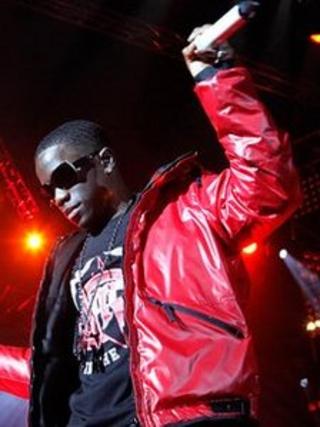 Rapper Tinchy Stryder is to headline a new alcohol-free music festival in Monmouthshire which aims to help people battling addiction.
Breakin' Out Festival in Abergavenny in September is organised by Sharon Lewis, a recovered drug and alcohol addict.
A website offering support on addiction and other issues such as bullying, self-harm and eating disorders will also be launched at the event.
Ms Lewis, 36, said the drink ban was a vital part of the festival's message.
"Our message is prevention rather than cure," she said.
"Kids idolise celebrity and we want to use celebrity to relay a positive message that these kind of things aren't cool.
"This is unique, it's not a normal festival."
Bottle of cider
The festival, which has Monmouthshire council among its sponsors, will take place on 8 September.
Other music stars including Skepta and Chipmunk who are performing will also raise awareness of the support on offer through the beenthereb4 website.
Tinchy Stryder said: "I'm really looking forward to partying with Wales at this event, it seems like a great idea of a way to highlight the issue of addiction and show we can have a ball without alcohol. I need everyone coming to prove me right and go wild"
Ms Lewis said the event could help people who are facing alcohol and drug problems.
Fully recovered from a cocaine and drink addiction for three years, she said drinking two bottles of wine and a bottle of cider was once part of her daily routine.
"It was embarrassing to be buying drink at eight in the morning," she added.
"I used to tell the man in the shop I was going to a christening and I'd alternate which off-licences I'd use.
"Being an alcoholic is a 24-hour job and I did a lot of damage to others.
"I hurt family and friends and put others at risk by drink driving. I worked out that my addictions cost the government over £50,000."
Former addicts
A wristband promoting the launch of the new website will be handed out to festival-goers.
Anyone attempting to bring alcohol into the festival will be searched and asked to dispose of it, but Ms Lewis said they will still be admitted.
"Some of them are the 'mini-me's' and I want them there," she said.
"We want to chat to them and find out if there are any issues behind what they are trying to do."
Some artists will also take part in question and answer sessions on battling addiction.
Ms Lewis said the beenthereb4 website will connect those suffering with an addiction, or fearful of developing one, with someone who has already battled similar issues.
"Only people who have been through it really know what it's like," added Ms Lewis, who is organising the festival on a voluntary basis.