General Dynamics: British Army deal secures Oakdale jobs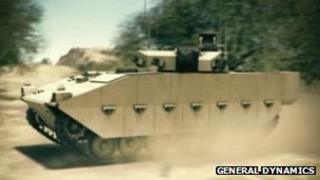 A deal to supply the British Army with armoured vehicles will safeguard hundreds of jobs in south Wales, says defence firm General Dynamics UK.
The Ministry of Defence approved funding for the scheme on Monday.
Up to 300 engineers and project managers at the firm's plant in Oakdale in Caerphilly county, are developing the vehicles.
Welsh Secretary Cheryl Gillan anticipated hundreds of further jobs created during the manufacturing phase.
General Dynamics UK is part of a larger US corporation which employs around 95,000 people worldwide.
The company is building four different variants of new armoured fighting vehicle which will replace the ageing SVRT vehicle and provide troops, it is said, with more protection and firepower.
The UK government's entire armoured fighting vehicle project is said to be worth £5.5bn.
"We welcome the announcement by the secretary of state for defence confirming that the SV (specialist vehicle) programme is secure in the MoD's future AFV (armoured fighting vehicle) pipeline and core programme of committed funding," said Dr Sandy Wilson, president and managing director of General Dynamics UK, the prime contractor on the programme.
"This is great news for the soldiers who will use SV. It is great news for the UK supply chain involved in designing and manufacturing SV and it is great news for General Dynamics UK in south Wales and validates General Dynamics' continued investment in the United Kingdom."
Chief of the General Staff, General Sir Peter Wall, said, "I am delighted that £5.5bn is secured for the armoured fighting vehicle pipeline over the next decade.
"It will provide the mobility, flexibility and protection to provide our commanders with critical battlefield information in the most demanding of environments."
General Dynamics UK has signed 24 contracts with suppliers in the UK and Europe, including Kent Periscopes in Denbighshire.
The firm, which also has a facility in Newbridge, has recently invested £12m in its facilities in Wales.