Hospital makes changes after baby Noah Tyler's death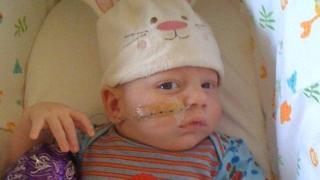 A hospital's head of midwifery told an inquest changes have been introduced following the death of baby last year.
Noah Tyler died 10 months after suffering irreversible brain damage at the University Hospital of Wales in Cardiff.
Noah's parents are suing for negligence following his death after being deprived of oxygen when he was born. The hospital has apologised.
Cardiff coroner Mary Hassell adjourned the hearing until 28 May.
Jane Herve, head of midwifery, said the hospital has since made four changes, including more training and a shake-up in monitoring procedures as well as introducing foetal heart rate scans to every new woman taken to the midwifery unit.
The inquest heard that the blood pressure of Noah's mother Colleen Tyler, 31, from Caerphilly, was 180 over 96 before she gave birth to her son.
An obstetrician told the court she was in real danger of having a cranial accident and should have been given medication to lower her blood pressure, but none was given. She was only given a glass of water.
Coroner Mary Hassell raised concerns of a pattern emerging of problems with monitoring blood pressure of mothers at the hospital's maternity unit.
Ms Hassell referred to the death of Ifrah Hureh, 38, from Adamsdown in Cardiff, who died of a large intracranial haemorrhage caused by pre-eclampsia in March 2008.
She said she remembered that Mrs Hurah's death was caused partly because of not monitoring blood pressure and pre-eclampsia properly on the maternity unit.
Ms Hassell said: "It seems to me it is purely good fortune that I am not considering two deaths here rather than one."
The inquest heard previously how Noah was rushed to an incubator after his birth and placed on a cooling mat to prevent his brain being permanently damaged.
He spent the next months being treated by specialists at the 1,000-bed University Hospital of Wales in Cardiff.
The hospital has apologised to his parents, and the midwife in charge of the birth has been dismissed.
The midwife involved admitted she failed to take the necessary action after noticing that Noah's heart rate was dangerously high.
He was moved to a children's hospital, but he died on 23 December last year.
The inquest has been adjourned to 28 May.