Tredegar and Haverfordwest in lottery restoration plan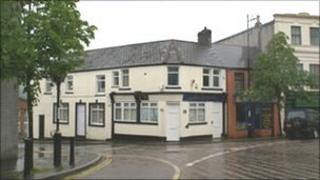 Two Welsh towns have cleared the first hurdle in a bid to secure a regeneration boost from the Heritage Lottery Fund.
Tredegar in Blaenau Gwent and Haverfordwest in Pembrokeshire, could get £1.6m and £1.2m respectively.
Their historic town centres would be restored and derelict buildings upgraded for future use.
The Heritage Lottery Fund (HLF) money is part of nearly £16m given to 12 regeneration schemes across the UK.
Both towns must now submit plans to show what the money would be used for.
Tredegar Town Council said last year the heritage of the town was "in crisis".
The council has said it would restore 17 commercial and residential buildings, including the Tredegar Arms Hotel; the former National Coal Board club; and Tredegar Medical Aid Society, which Aneurin Bevan used as a model to establish the NHS.
Councillor John Morgan said the buildings earmarked for work were "important for the whole of Wales, not only Treed".
"We want to see them regenerated and brought back in to use," he added.
"We want to see visitors coming to Tredegar and using the facilities, and also these facilities to be reopened for the people who haven't got much to do here at this moment in time."
Mr Morgan said heritage tourism was important for the town.
"We've seen people here from Japan and America, people are coming to see where their roots are from," he said.
Haverfordwest would use the £1.2m to continue restoration work already being carried out in the town, focusing on historic properties on High Street and Market Street.