Man found dead after fire in flat at Whitchurch, Cardiff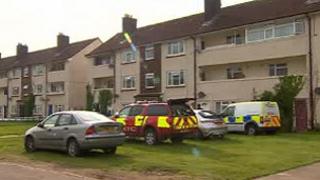 Police and the fire service have launched an investigation into the death of a man following a fire in Cardiff.
Fire crews were called to a flat in the Whitchurch area of the city at 12:00 BST on Saturday.
They arrived to find the remains of a fire, which had extinguished itself, and the body of a man.
South Wales Fire and Rescue say there were no smoke alarms in the property in Warren Evans Court.
South Wales Police had no further information.
South Wales Fire and Rescue said it offered its condolences to the family of the dead man, and has urged members of the public to ensure they have properly installed working smoke alarms at their homes and a plan of escape in the event of a fire.
The fire service said advice is available by calling 0800 328 1830.