Merthyr Tydfil crime project reduces victim numbers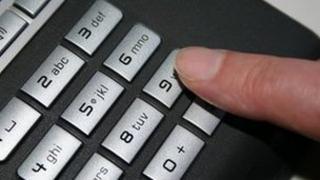 Anti-social behaviour calls to police dropped from 265 to 87 over four months in a trial which focused on victims and their complaints in more detail.
The pilot project in Merthyr Tydfil followed up callers who phoned police at least three times in three months.
South Wales Police say these callers were dealt with personally, with extra outside help offered to those vulnerable residents who needed it.
Housing associations and health service professionals have been involved.
The police found calls fell between last October and January because of the scheme.
The number of people repeatedly calling to report anti-social behaviour cases also fell from 62 to 21 a month in the same period.
One expert said the project was an "effective response that meets the needs of victims".
An analysis of the callers phoning police on 101 to report incidents in the area found that there was a significant number of repeat callers phoning more than three times in three months.
Officers have involved other agencies such as housing associations and health service professionals to get care, social and welfare help after the initiative helped identify vulnerable people who needed extra support.
They have also followed up callers' concerns and tackled issues in the community such as problems caused by neighbours, liaising with tenants' landlords and threatening them with action for further problems.
Martin Innes, professor of police science at Cardiff University, highlighted the project as an example of using limited police resources in new ways .
It comes after Ian Arundale, retiring chief constable of Dyfed-Powys Police, told how cuts in police budgets could mean police miss crime such as anti-social behaviour.
'Worked hard'
Prof Innes, who has been monitoring the effectiveness of the project in Merthyr Tydfil, said: "Rather than just focusing on suspects, if the police and other agencies started to look at victims and try and deal with the problems that victims brought to them, then actually you can have a far more effective response that meets the needs of victims.
"In Merthyr Tydfil where they have been trying to reorient their service provision towards victims what we have seen is they have been able to reduce the number of repeat victims of anti-social behaviour by about a half over a period of a year.
"They have reduced the number of calls received by those victims by well over a half," he said.
Insp Claire Hallett who works in Merthyr said colleagues had worked extremely hard over the past year to "tailor police responses appropriately".
"This has ensured that members of our communities get the help they need as individuals, be it from the police or another partner agency," she said.
"Our processes ensure that we clearly differentiate between those callers that are vulnerable repeat victims of crime, and those who clearly aren't victims but may be vulnerable and require the help of other agencies.
"We have also been able to identify the nuisance callers and take robust action.
"Collectively, this has all considerably reduced the demand on our front-line which in turn reduces demand on other agencies, so we have a win-win situation."