Arrest after suspected armed robbery at Grangetown, Cardiff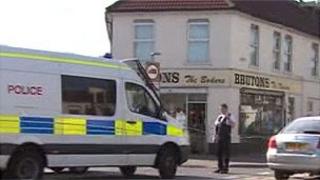 A man has been arrested on suspicion of armed robbery after a raid on a bakery, say police.
The 28-year-old man was held in Grangetown, Cardiff, after the incident at Bruton's shop in Clare Road on Wednesday afternoon.
South Wales Police have confirmed that armed officers were deployed as a precaution.
Nearby Cornwall Street also was closed for a short time while the police operation continued.
The area outside the bakery has been cordoned off as the investigation continues.