Car insurer Admiral backs OFT change to 'mad' system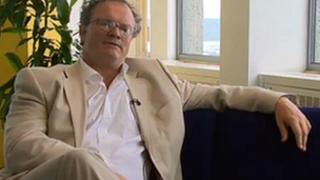 The head of major car insurer Admiral has welcomed proposed changes to a system he calls "mad".
The Office of Fair Trading (OFT) says the practice of insurance companies getting referral fees from car hire firms and repair garages is inflating premiums for motorists.
David Stevens, chief operating officer of Cardiff-based Admiral, says the current system is "dysfunctional".
He also called Cardiff "brilliant" for businesses who want to move.
Admiral is Britain's second biggest insurance provider and relocated to Cardiff in the 1990s.
Mr Stevens told BBC Wales' Dragon's Eye programme it was a misconception that the company relies more on referral fees than other insurance companies.
Admiral currently makes £5 per policy holder a year on referral fees, but pays out more than that in "inflated car hire costs," according to Mr Stevens.
"We welcome the changes that are going to take place both on car hire, which is the current thing the OFT has been focused on, and on legal referral fees because it's a mad system - it's a dysfunctional system that does inflate the cost of car insurance," he said.
"We pay out a lot more in claims because of this dysfunctionality than we receive in referral fees, so if you just get the system working properly, get rid of referral fees, get rid of that which inflates the claims, we're very happy.
"If they can sort out the madness of people being able to claim too much then it's a win for us rather than a loss."
Transport links
Mr Stevens also said Cardiff was a "brilliant product" that should be marketed effectively to the big financial hitters to create an enterprise zone in the financial sector.
"We came to Wales in the early '90s and there were three or four things that made a real difference. We were a brand new company then, we could have gone anywhere," he said.
"The reason we chose south Wales was partly transport links to London; partly a number of people in Wales did a brilliant job of selling Wales to us and... as a place to locate, and partly because it is a nice place to live."
Asked how to tempt other financial big hitters to the city, Mr Stevens said it was partly about sales and marketing.
"The product that is Cardiff is a brilliant product. There's so much going for Cardiff in terms of culture and shopping and sports and education facilities and everything that is interesting for people who have to make a decision about where they live often for the rest of their lives."
He added: "It's a good story, but you've got to get it out there particularly to the people in London who are making choices about where they're going to locate businesses in future".