Health centre opens as part of £13m Butetown regeneration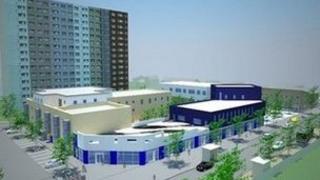 A health centre has been opened in the latest stage of a £13m facelift for a Cardiff docklands community.
Health Minister Lesley Griffiths unveiled the premises which includes two GP practices that can serve 3,000 patients.
It has been hailed as a milestone in the regeneration of Loudoun Square in the Butetown area of the city.
The health centre is part of the @Loudoun building which also includes a cultural centre.
The new Butetown Health Centre puts a number of services under one roof, including a dental practice and pharmacy.
Community services such as health visitors, sexual health and child health services will also be available.
Cinema
A community cinema and digital film-making suite are being opened in a culture and media centre on the same site.
Office space in three social enterprise units will be available for service providers or businesses.
A one-stop shop for council services and a centre for training jobseekers have also been built.
The Loudoun Square regeneration project is a collaboration between Cardiff council, the NHS and Cardiff Community Housing Association (CCHA).
Work started on the site of a run-down 1960s shopping centre and derelict maisonettes in 2010.
A parade of 11 shops was completed last November and residents will move into 13 new homes later this month.
The final phase of the scheme will see 48 flats being built, 13 of them designed for disabled people, and is due to be completed next March.
CCHA chief executive Kevin Protheroe said: "The opening of @Loudoun is significant for all partners involved, especially the local community.
"They now have access to high quality health, information and recreational services all under one roof.
"Our new culture and media centre offers free weekly film screenings for local residents, access to creative projects, space for community group activities and meeting and training rooms.
"We firmly believe that @Loudoun will have a big impact on the regeneration of Loudoun Square."