Aberbargoed Grasslands nature reserve opens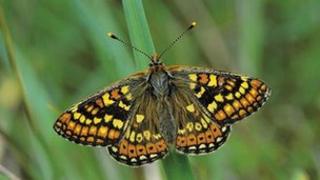 A "green oasis" has opened in the heart of a former mining community.
Aberbargoed Grasslands in Caerphilly county has been officially designated a National Nature Reserve (NNR) by the Countryside Council for Wales (CCW).
Despite its urban setting, Caerphilly council says the site is home to the endangered marsh fritillary butterfly and other wildlife.
A series of events, including a butterfly parade involving local children, marked the opening.
With most NNRs in Wales based in rural, coastal or upland areas, the council says Aberbargoed Grasslands is of "particular importance to south Wales due to its close proximity to an urban community".
It is already home to fungi, grasslands, ponds and hedgerows, and includes an on-site classroom to encourage community involvement.
Council cabinet member Ken James said: "The improvements made to the grasslands over recent years have nurtured and encouraged the wildlife at the site.
"We are delighted that the site will be declared a National Nature Reserve, as it will enable us to further enhance the habitat and increase opportunities for the community to enjoy this important green space."
Environment Minister John Griffiths opened the newly-designated NNR.
Commercial Street in Aberbargoed was closed for the butterfly parade.