Funeral for Capt Stephen Healey killed in Afghanistan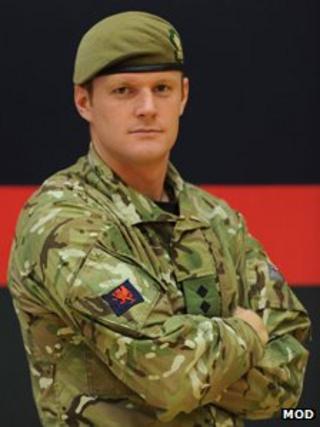 The funeral has been held of a Royal Welsh officer from Cardiff who was killed by a bomb in Afghanistan.
Capt Stephen Healey, 29, died when his vehicle was caught in a blast in Helmand province on 26 May.
He had been an apprentice at Swansea City football club before being commissioned into 1st Battalion, The Royal Welsh (Royal Welch Fusiliers).
The funeral service took place with full military honours at St Cadoc's RC Church in Rumney, Cardiff.
His commanding officer Lieutenant Colonel Stephen Webb MC, said Capt Healy would be remembered "as one of the most charismatic and professional leaders any of us will have had the privilege of serving with."
"He was a brilliant Army officer and a truly outstanding individual," said the commanding officer.
Prior to his Army commission in 2008, Capt Healey had studied at Swansea University after injury put an end to his promising football career at Swansea City.
Charity work
He was also an active fundraiser for charity, and in February this year he walked blindfold from Chester to Llandudno to raise money for blind service veterans.
Capt Healey served a number of tours as a soldier, and in 2009 was mentioned in dispatches for his actions during a deployment to Afghanistan.
In 2010 he spoke about how he survived after the vehicle he was in was hit by an improvised explosive device or IED, with the force of the blast snapping a couple of the machine guns in half.
Capt Healey leaves behind his father John, mother Kerry, brother Simon and girlfriend Thea.
His funeral service took place at St Cadoc's RC Church in Rumney.
It was followed by an internment at Western Cemetery in Ely, where a firing party fired a volley of shots in salute to Capt Healey.
The family requested that those wishing to make donations do so in support of Blind Veterans UK.