Falklands: Welsh Guardsman's daughter's Elizabeth Cross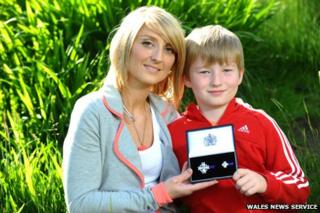 A daughter has collected a medal for the Welsh Guardsman father she never knew who died in the Falklands.
Katie Gibby, 30, was presented with an Elizabeth Cross for Mark Gibby at a ceremony in Reading, Berkshire.
He was one of 48 soldiers who died when the Sir Galahad troop ship was bombed by Argentine warplanes in June 1982.
Ms Gibby, from Ynyshir, Rhondda, who was a few months old when he died, said: "This was the first time I've been able to do something for him."
"There were mixed emotions but the feeling of pride overwhelmed the sadness."
She travelled to Reading with her son Connor, 10, to collect the medal.
The Elizabeth Cross was introduced in 2009 as a new honour for members of the armed forces killed in action or from terrorist attack since the end of World War II.
Ms Gibby said she had a photo of her father holding her in his arms the day he set off for the Falklands on 12 May 1982 with the Welsh Guards.
But two months later he was dead at the age of 22 when the Sir Galahad was destroyed on 8 June.
"I've got no memories of my dad - when I think of him it is just black, darkness," said Ms Gibby.
"His body was never found and I remember daydreaming at class when I was nine that there was a little island close to the Falklands and that he could still be alive.
"I had it in my mind that he could come back at any time - it kept me going.
"But I found it hard seeing pictures of the Sir Galahad. I knew men were running around on fire and I was worried that he was one of them.
"But now all the anger and hurt has stopped and I look at him with pride.
"I'm pleased my dad played a part in achieving freedom for the Falkland Islands and hope I can go there one day with Connor."