Maesteg murder: Thomas Sutton's grandmother watched efforts to save him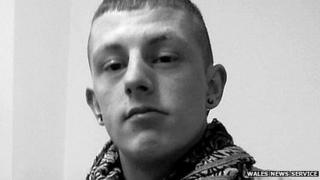 A grandmother has described how she watched paramedics try in vain to save her grandson after he was stabbed.
Susan Sutton said Thomas, 20, was stabbed three times. A youth, 17, remains in a critical condition after also being stabbed.
Police are searching for the killer following the double-stabbing in Nantyffyllon, near Maesteg, on Tuesday.
Ms Sutton told the Glamorgan Gazette : "They were working on Thomas but it just did not work."
She said she rushed to Tonna Road following the incident and found her grandson lying in the garden of a terraced property.
She added: "I went down there and he was just lying there in the garden and they were trying to get his heart going.
"The other boy was already in the ambulance. They were working on Thomas but it just did not work.
"He was stabbed three times.
'Likeable rogue'
"There was a lot of blood all down the steps outside the house."
She said her grandson was known locally as Tuskin, describing him as a "a likeable rogue".
Mr Sutton, a former Maesteg Comprehensive School pupil, was one of seven siblings including a 13-month-old baby brother Macauley.
The injured teenager has been named locally as Kyle Harris, 17, and he is being treated at the Princess of Wales Hospital in Bridgend.
On Wednesday, South Wales Police said they were making "progress" in the hunt for the killer, but there have been no known developments.
Police have searched undergrowth near the scene at Tonna Road, which remains closed.
Tents erected by forensic officers have been taken down.
Police are keen to reassure local people that "everything is being done to arrest the person responsible", and community support officers have been speaking to residents.
On Wednesday, Mr Sutton's mother, Joanne, 42, said her son had a "heart of gold" and said the family was "just numb".
A local resident said: "I feel a bit on edge.
"I know a lot of people are fearful to be leaving their homes today.
'Fearful'
"But there is this sense of community spirit as well, and it's bringing people together.
"It's making a lot of people speak to people more.
"A lot of women are fearful, really fearful and shocked."
She said it was a "quiet, lovely community," but there had been a stabbing in the area about six months ago, adding: "What's going to happen next?"
Floral tributes have been left near the scene. An incident room was set up at Bridgend police station.
Detective Chief Inspector Paul Hurley, who is leading the inquiry, said emergency services were called at about 21:00 BST to a report of a serious incident on Tonna Road, Maesteg.
He is appealing for anyone who was in the Tonna Road area between 19:00 BST and 21:30 BST on Tuesday and saw anything suspicious, to contact police.
Anyone with information should contact the incident room at Bridgend Police Station on 01656 306099 or Crimestoppers anonymously on 0800 555 111.