Cardiff traders hope for boost from St Mary Street market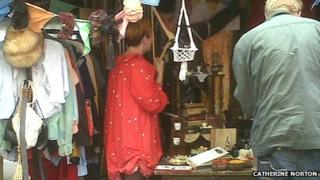 Shops in the centre of Cardiff are hoping for a boost in trade with the launch of a weekly street market.
Stalls selling vintage clothes, antique furniture and bric-a-brac will set up in St Mary Street every Saturday.
Huw Thomas, Cardiff council cabinet member for sport, leisure and culture, said the market would provide "a unique and diverse shopping experience".
Many traders hope the market will bring back customers deterred by disruption due to pedestrianisation work.
Since a ban on cars in St Mary Street was introduced in 2007, one of the city centre's main thoroughfares has been transformed, with work completed in November 2011.
The market will be open every Saturday between 11:00 and 17:00 for an initial 12-month period.
Coun Thomas said the weekly market would make the city centre even more attractive to residents and visitors alike.
"The capital already has excellent shopping provision and this new market will give people the chance to pick up some one-off finds whilst enjoying a distinctive and vibrant atmosphere," he said.
'Vibrant'
Gareth Simpson, development manager for the Riverside Community Market Association, said they were asked to manage a weekly event after trialling a farmers' market in the High Street opposite Cardiff Castle last summer.
"The council wanted to broaden it out, something to complement what's going on in the built shopping area," he said.
"We'll have 25 or 26 stalls initially, but as time goes on if it's successful there is scope to expand further up the street and really create a Saturday feature.
"Big cities have vibrant street markets - we have to be vibrant too."
Although the market will include some artisan food stalls, Mr Simpson said no hot food would be served because of concerns from local cafes.
Ian Davis, co-owner of Garlands coffee shop in nearby Duke Street Arcade, said the food stalls were his main worry although he broadly welcomed the market.
"With the advent of St Davids 2, the pedestrianisation, the changing of bus routes, the general dip in the economy etc, the Castle Quarter end of the city has really taken a significant dip in footfall so it does need a kickstart," he said.
"Doing something like the farmers' market or any type of market where a certain type of person will gravitate towards is nothing but a good thing.
"But I'm involved in food and drink so in the short term it will actually take customers away from me."
'Knock-on' effect
Traders already selling vintage clothing in the city centre arcades welcomed news of the market.
Peter Walsh, assistant at Hobo's Vintage Clothing in the High Street Arcade, said: "The more the merrier I think.
"If you look at Camden and places like that there are loads of places in one area, so I think it's a good thing."
Glenn Thompson, manager of the nearby I Claudius vintage clothes store in the Castle Arcade, said: "It's going to have a knock-on effect - more people will be in the area so they might come here and spend some money here as well."
Elaine Lewis, manager of Claire Grove Buttons, hoped the market would boost business which had suffered due to the pedestrianisation work.
"I think it's great - it's what Cardiff needs," she said. "We should have had one a long time ago.
"Since the bus stop has moved from the end of Castle Arcade and they've moved the crossing further up, we have noticed a lot of footfall has disappeared."
"We don't get the coachloads of tourists parked at the end of the arcade any more and we don't get as many people cutting through.
"However, saying that, the pedestrianisation of St Mary Street I think is great. People can get to us easier, you don't have to wait to cross the road and I think it's opened up the whole area really."
Mike Podesta, manager of Cranes Music Store, said: "It'll be nice to have a bit of footfall at this end of the street. It's been quite quiet since the road closures so I think it's very positive."
Many shoppers said they would take a look at the market although opinions differed as to its attractions.
Avril Seward, from Grangetown, said: "I like things from the past but we already have Oxfam so I don't see what new things they're going to bring."
Rhiannon Phelps, from Carmarthen, now living in Cardiff, was more positive.
"I love things like that," she said. "I always go to antique stores - I don't really like all the clothes shops, I do prefer markets."
Student Phil Pexton said the market would help show the benefits of a pedestrianised street.
"If anything it brings more people in," he said.
"Before it was quite a busy street on a narrow pavement, now widening the whole thing it's allowed more people to get in here so I think it can't be a bad idea at all."