Vale of Glamorgan hires Xfor over litter and dog mess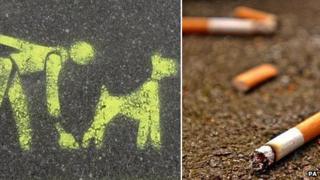 A second Welsh council has hired a private security firm to enforce fines against people who litter and dog owners who do not pick up after pets.
Vale of Glamorgan said staff at Xfor would be able to issue a £75 fixed penalty notice without warning.
The council said the one-year trial from 30 July aimed to "significantly improve" the cleanliness of streets, parks, beaches and other open spaces.
Xfor has handed out more than 1,000 fines in Blaenau Gwent since October.
Blaenau Gwent was the first in Wales to use a private contractor to back up its policy of fining people who drop litter, or dog walkers who fail to pick up their pet's mess.
Last year Vale of Glamorgan issued 13 fixed penalty notices for dog fouling offences.
Rob Curtis, the Vale cabinet member for the environment and visible services, said the new "zero tolerance" approach would see Xfor staff patrolling in the evening and at weekends.
He said: "I know that this change in policy is supported by the majority of law-abiding Vale residents.
"Only offenders who do not pick up after their dog fouls, those who drop litter and toss cigarette ends to one side may fear.
'Horrible infection'
"Residents and visitors who do so are breaking the law, and do this at their peril."
Mr Curtis said the money the council spent on street cleaning "could be better spent repairing our roads or repairing our schools or even refurbishing our public toilets".
He added: "Dog fouling is not only unpleasant it is also dangerous.
"The biggest threat to public health from dog excrement is a horrible infection of the toxocariasis roundworm."
Like Blaenau Gwent, Vale's contract with Xfor will see the local authority split the income from the fines with the firm.
Xfor will take 60% (£45) of every £75 fixed penalty notice.
Vale of Glamorgan said it would put its 40% share (£30) of the fines into its dog fouling and litter initiatives and equipment. In comparison, Blaenau Gwent' spent £100,000 in 2011/12 to crackdown on dog fouling and litter. This was offset by an income from £43,800 fines.