Vale of Glamorgan council probes empty beds at Ty Dyfan care home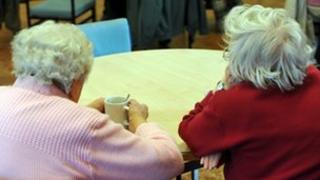 Vale of Glamorgan council says it is investigating claims that £190,000 a year is being spent by social services on empty beds at a care home.
Coun Stuart Egan, the Vale's cabinet member for adults, claims money has been spent on 12 empty beds "for many years" at Barry's Ty Dyfan care home.
He blamed the previous Conservative administration and said the Labour-run council would investigate.
The leader of the Conservative group has declined to comment.
Coun John Thomas said he could not comment because he did not know enough about the Ty Dyfan situation.
Coun Egan said it had been alleged that 12 beds for the elderly and mentally infirm (EMI) had "remained empty for many years and allegedly cost £190,000 per year".
He added: "This is despite there being patients left in hospital who may have needed these beds.
"It appears that the previous administration did not do anything about it and this is yet another example of the things we are now uncovering.
"Although we knew things were bad with expenditure on social services over-spending by £3.5m last year alone, but we didn't think things were as bad as they actually are."
Coun Egan said the situation at Ty Dyfan was discovered while the council was investigating issues around another care home, Bryneithin , in Dinas Powys.
Bryneithin has one resident and is being kept open despite it currently costing £450,000-a-year to run.
The council has been urged to make a decision on the home's future.
Coun Egan said: "We also want to make it clear that we intend investigating using the Bryneithin site for the provision of care for older people, but our investigations haven't yet concluded.
"The issue is high on our agenda and we are committed to resolving it, following consultation and engagement with the local community."