Llandaff Cathedral funeral for Guardsman Craig Roderick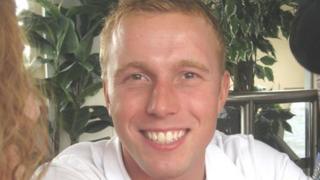 The funeral of a soldier shot in Afghanistan by a man dressed in a local police uniform was attended by about 700 people at Cardiff's Llandaff Cathedral.
Craig Roderick, of 1st Battalion Welsh Guards, was one of three British troops killed as they left a checkpoint.
The service for the 22-year-old, from Llanharan, Rhondda Cynon Taf, was told about his "wicked sense of humour".
Brigadier Robert Talbot-Rice lead the tributes following a prayer and hymns.
His family said that words could not describe "how the loss of our precious Craig has affected us all".
The soldiers were part of a Nato-led force that had been training Afghan counterparts ahead of a handover of security responsibility by 2014.
The shooting happened at a checkpoint in Helmand province where the soldiers were attending a meeting of elders.
The brigadier told the service: "He was brave, honest and loyal. He was the sort of man that every soldier would be glad to have at his side."
He described him as the "utmost professional" who put his "heart and soul" into the job he was called on to do.
"He was making a difference to the daily lives of the ordinary people in the province."
The others killed in the incident were Apete Tuisovurua, also of 1st Battalion Welsh Guards, and Warrant Officer Perran Thomas, of the Royal Corps of Signals.