London 2012: Olympians hail 'fantastic' Cardiff support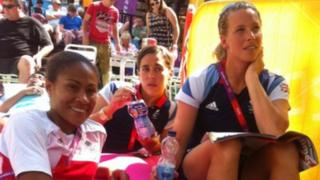 The victorious Great Britain women's football side have paid tribute to what they call the fantastic support they have received from the Cardiff public.
Team GB beat New Zealand 1-0 as they opened the Olympic Games on Wednesday.
They took time out following that win with a wander around the city centre on Thursday.
Three members of the squad could be found relaxing on beanbags watching the Spain v Japan men's game on the big BBC screen in the Hayes.
Rachel Yankey who plays left wing said: "It's brilliant with the atmosphere and the people who came to the game. It's been fantastic. It makes it a real special occasion.
"Hopefully we can get even more with the next game being on a Saturday."
Wednesday's crowd was just over 30,000 which, while down on some pre-match estimates, was one of the biggest ever in the UK for women's football.
Rachel Brown, goalkeeper, said the players had been made to feel "special" and were enjoying being based in the city centre.
She added: "It's been lovely being asked for photographs. We feel like proper Olympians and that's even more special.
"You need to detach yourself sometimes mentally and get out of the hotel.
"The city centre is on your doorstep and you can get out and do a bit of shopping. We've been enjoying the friendliness if the Cardiff people."
Both players said they were aware of the honour of opening the Olympics.
Yankee added: "Especially as there's never been a GB women's team before, everyone is dead proud."
Full-back Steph Houghton converted a free-kick midway through the second half to seal an opening win on Wednesday at the Millennium Stadium.
Their next match is on Saturday against Cameroon, also at the Millennium Stadium.