James McLaren: Parents' tribute to BBC music writer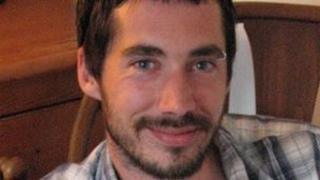 The parents of a BBC Wales music writer and assistant producer who died in a motorway crash in south Wales have paid their tribute to a "greatly loved" son.
James McLaren, 34, and originally from Worcestershire, died on Monday after a collision with a lorry on the M48.
His parents said he would be "greatly missed both by his devastated family and his many friends".
The Lostprophets are among the bands who have also paid tribute to his work in promoting Welsh music.
Mr McLaren, who lived with his girlfriend in Cardiff, had worked at BBC Wales for the last six years, writing the BBC Wales music blog.
Previously, he worked at the Welsh Music Foundation where he produced the monthly magazine, Sound Nation.
'Active and happy'
In a tribute issued by Gwent Police, his parents said: "He'd been an active and happy resident of Cardiff since 1996, when he moved to the city as a student.
"He was involved in music, journalism and music journalism from his first arrival.
"However, he still had many connections in Worcestershire, and particularly Evesham, where he attended Prince Henry's High School.
His parents added: "On Flickr, where he shared his wonderful and wide ranging photos, he described himself as a 'music and F1 geek', but he had many other enthusiasms - his friends, his dogs, journalism, ornithology, history and Warhammer gaming.
"All those close to him loved him deeply and we would wish he had been with us for many more years, but those years he had were busy, useful and lived to the full."
BBC Wales director Rhodri Talfan Davies, in his tribute, praised Mr McLaren's "real love for his subject, an encyclopaedic knowledge, and a deep commitment to support new talent".
Mike Lewis of The Lostprophets described the writer as "a great supporter of Welsh music both new and old, his passion will be greatly missed".
Hundreds of tributes have also been made on Twitter, including from bands such as Manic Street Preachers.