'Big demand' for Cardiff City FC's new red shirts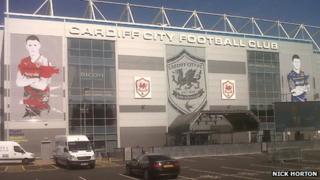 Cardiff City's controversial new red shirts went on sale for the first time on Friday, with the club claiming there had been a "big demand" for them.
City confirmed in June they would change their shirts from blue to red with a new dragon crest as part of "major and significant" investment.
Fans were invited to a rebranding launch event at Cardiff City Stadium on Friday night.
When plans for the strip were leaked in May it led to an impassioned debate.
The new red shirt is aimed at widening the club's appeal more in the Far East market, where the colour is considered lucky.
There were claims from some fans that the club was sacrificing its traditions, but other supporters backed the move if it meant Cardiff's financial future was more secure.
Until now, City have always played in a blue home strip with a bluebird crest.
The move followed discussions between club directors and Malaysian investors Tan Sri Vincent Tan and Dato Chan Tien Ghee, known as TG.
The stadium was officially reopened at a special sell-out event on Friday.
Live music, a funfair and a firework display were planned, and some of Cardiff City's players were expected to attend.
A Cardiff City spokesman said: "We are excited about the new kit and there has been a big demand for it. Lots of people have been coming into the shop asking when it's available.
Longstanding debt
"The event is a precursor to the season. Now we have sole ownership of the stadium, we have been able to brand it in our own colours, and it will be officially reopened," said the spokesman.
In June, club chief executive Alan Whiteley said the change of strip was designed to help the club - known as the Bluebirds - expand their appeal.
The new investment package will also allow the club to resolve its longstanding debt with the Langston company, it has revealed.
The club plan to invest in a new training ground and facilities, and will look into the feasibility of expanding the stadium.