Severn bridges: Talks adjourned on toll booth staff row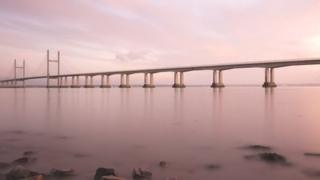 Talks to avert a strike affecting both Severn bridges between south Wales and west England have been adjourned.
About 70 toll booth staff voted in July for industrial action in a dispute over changes to shift patterns.
Members of Unite have threatened a work to rule from next week as well as a 24-hour strike for the start of the August bank holiday.
Severn River Crossing (SRC) is obliged to keep the bridges open and may be forced to suspend the tolls.
Unite said it was "negotiating in earnest to get a fair settlement" with SRC. Talks will resume on Friday.
The toll booth staff voted for industrial action in a dispute with SRC about "work-life balance".
Unite's regional officer Jeff Woods claimed the new shifts "would make a mockery of our members' work-life balance, so as a last resort they have voted to take strike action".
"We hope that we can resolve this dispute before the industrial action starts, but the management needs to be more flexible.
"Both Unite and the management are committed to finding a solution to the dispute and both sides are working hard to achieve a resolution."
SRC was not available for comment.