Gwent Police's metal theft crackdown sees 862 arrests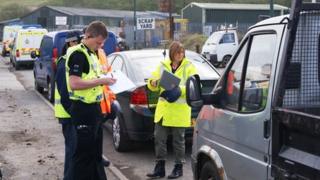 Gwent Police say a 16-month crackdown on metal thefts has resulted in more than 860 arrests and nearly 1,500 vehicles being seized.
Officers have stopped more than 21,000 vehicles since the operation began in April 2011, seizing 70 van loads of scrap, and closing two scrapyards down.
The force said 862 people had been arrested with 761 reported for summons.
Figures at the end of 2011 showed metal thefts from churches alone in Wales rose five-fold in two years.
Recent record prices for metal have been blamed for the surge in thefts.
Gwent Police said it worked with agencies including VOSA, the Department for Work and Pensions, British Transport Police, the Environment Agency and energy and utility companies.
A force spokesman said their methods are being used as best practice.
Chief Inspector Glyn Fernquest, leading Gwent's operation, said: "As well as taking action against illegal activity, we have gathered a large amount of intelligence that will help us target people associated with metal thefts in Gwent.
"This operation demonstrates what can be achieved when partner agencies come together and the results send out a strong message to criminals."