'No wrongdoing' at Rhondda Life, says Welsh government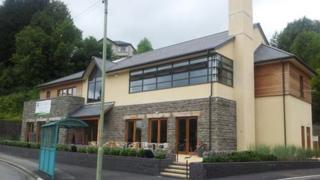 An investigation has found "no evidence of wrongdoing" at a south Wales valleys social enterprise scheme which is facing difficulties.
Rhondda Life Ltd was launched in 2009, to regenerate the local community. Its member organisations received more than £1.8m government funding.
Only the first part of a three-phase development has been completed.
The Welsh government said no wrongdoing was found, and discussions were ongoing on the project's future.
Only one part of the development - the refurbishment of a former pub into a new HQ for Ferndale Rugby Club - has been completed.
The second phase involved developing a museum of Welsh sport and auditorium, with the third being a hotel.
The asset is being run by the brewery under a section 38 receivership order.
When news of the problems was revealed in July, Plaid Cymru said it had asked the auditor general for Wales to investigate.
Following an investigation, the Welsh government said it "always takes seriously any suggestions of inappropriate behaviour by any of the organisations it funds".
It added: "In agreement with the Wales Audit Office, Wales Government Internal Audit recently carried out a review of financial systems in RLL [Rhondda Life Ltd] in response to allegations which had been made to the Wales Audit Office.
"No evidence of wrongdoing was found.
"We continue to liaise with the Wales Audit Office and, of course, to co-operate with them in every way."
A spokesperson said discussions were continuing to "secure the future use of the building for the benefit of the community".