M4 Brynglas tunnel accident at Newport causes delays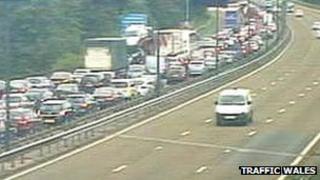 A crash between a car and a van in one of the Brynglas tunnels caused up to four miles of tailbacks on the M4 motorway in Newport.
The incident at 09:55 BST on Monday closed one of two lanes on the eastbound carriageway just east of junction 26 at Malpas.
Average speed of vehicles was down to 10mph, and traffic congestion was trailing back four miles to junction 28 of the M4 at Tredegar Park.
No-one was injured in the collision.
Gwent Police said the crash involved a Citroen C2 and a Fiat Doblo van.
The Citroen driver, 17, from Aberdare, was reported for driving without due care and attention.
The lane later reopened.