Miss World runner-up Sophie Moulds, from Rhondda, 'so happy'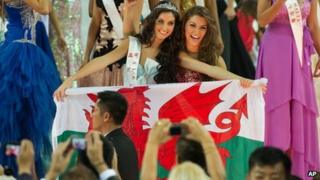 A teenager from the Rhondda valley has come second in the Miss World competition - the highest position of any British entrant since the 1980s.
Sophie Moulds, 19, from Ferndale, was beaten to the crown by Yu Wenxia, from China, at the glamorous pageant in the Gobi Desert.
Miss Moulds, who is also Miss UK and Miss World UK, studies business management at Cardiff University.
The brunette said: "I'm just so happy, it was just the best feeling."
Miss Moulds, who would like to own her own luxury car business one day, added: "My family got to come out and they were there so that was really nice.
"We had a coronation ball and dinner afterwards and we got to watch the highlights of the show."
Ms Moulds clearly impressed the judges, she won the bikini round and came in the top 10 for Beauty With a Purpose, which focuses on charity work.
Ms Moulds, who describes herself as a dedicated, hard-working and compassionate person who likes walking her dogs, will spend much of the next year juggling her studies and travelling with Miss World.
"I'm not sure how I'm going to do it, but it's ok, I'm good at multi-tasking," she said.