Newport RFC look at Arthur Gould collection whereabouts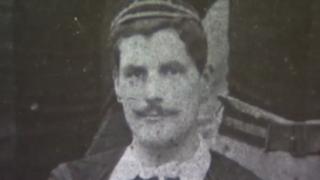 A rugby club is investigating the whereabouts of historic memorabilia it was loaned worth an estimated £250,000.
The collection belongs to the family of Arthur Gould, who captained Wales to their first Triple Crown in 1893.
It was loaned to Newport RFC and the family say they want to know what has happened to it.
But the club said its investigations "strongly suggest" the memorabilia was returned to the family in the 1990s.
Gould, nicknamed Monkey because he loved climbing trees, was born in Newport in 1864 and set a host of records both for Wales and his home club.
He was part of the "invincibles" team of 1891-2, which went unbeaten for an entire season, and was part of the first Wales team to beat England in 1890.
In 1978 the family agreed to loan Newport RFC the collection, which had memorabilia from Gould's career and that of his brother, Edward Wyatt Gould.
The family say the collection included a Welsh jersey, Welsh cap, both men's Newport caps and jerseys, as well Gould's gold watch and his brother's Olympic participation medal from the 1908 Games in London.
Members of the family have told the South Wales Argus that they want a full search of the club.
Dai Richards, a collector of Welsh rugby memorabilia, told the Argus that the total insurance valuation of the collection could be £250,000.
A spokeswoman for Newport RFC: "All of our memorabilia is stored in secure glass cases and in a locked room which was generously funded by Friends of Newport Rugby.
"Newport RFC very proudly displayed a limited amount of Gould family memorabilia for several decades, although are no records of us having held any of Wyatt Gould's medals.
Hall of fame
"Our investigations to date strongly suggest that these items were returned to Arthur Gould's immediate family in the early 1990s. These investigations are ongoing and we are keeping the family appraised."
Chris Brown, chief executive of the regional side, the Newport Gwent Dragons, told BBC Wales: "Just as recently as March we had the inaugural dinner of the Newport rugby hall of fame and, in fact, the first person that was inaugurated into the hall of fame was Arthur Gould.
"Indeed, his family came along, made some speeches and brought along some memorabilia which we do believe included the watch and the medal."
Gould captained Wales for 18 of his 27 caps, a record which was only broken by Ieuan Evans in 1994.
His record of 37 tries in just 24 games in the 1892-3 season for Newport is a record for tries in a single season for the club which still stands.