Rhondda: SmartWater used to beat school metal thieves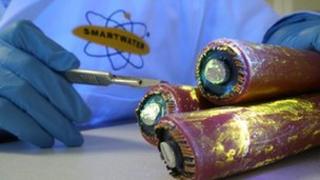 Police are stepping up a campaign against metal thieves by marking a Rhondda school with a special liquid.
They painted parts of Tonypandy Primary School with SmartWater, a liquid that is invisible to the naked eye but can be seen with a UV light.
It cannot be washed off and has a unique code registered to the property.
Campaign group Metal Snatchers have taken action after part of the school's roof was stolen causing an estimated £20,000 worth of damage.
Metal Snatchers includes Rhondda Cynon Taf council and South Wales Police.
Classrooms were damaged after lead flashing and tiles were taken.
Earlier this month, thieves stole about 6m of lead flashing from the rooftop and some tiles.
SmartWater has been widely used on more than 30,000 churches and heritage buildings across the UK.