Sophia Square: Radio Cardiff's first episode of new soap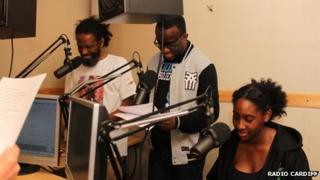 Move over Albert Square, there's a new soap square in town as a community radio station broadcasts its first episode of a drama written and performed by volunteers.
The first episode of Sophia Square on Radio Cardiff made its debut over the bank holiday weekend.
It was the idea of Alison Plant who hopes the pilot episode will be turned into a full series by October.
Sophia Square's cast reflects the multicultural population of Cardiff.
"People thought that it was crazy for a station of our size to try to take on a continuing drama," said Ms Plant, Sophia Square's editor and director.
"But the enthusiasm and number of volunteers we've had since we started recruiting for actors and scriptwriters has been incredible.
"We've just finished the pilot episode, and we've got an entire series to write before October, but when it seems too daunting, we just have to try and remind ourselves that Pobol-y-Cwm, The Archers, and even Corrie all had to start somewhere."
The first episode, broadcast this weekend, joins Delroy and his family, preparing a party in his cafe to celebrate the 50th anniversary of Jamaican independence.
But the festivities take an unexpected twist when a stranger, Alice, turns up uninvited.
'In suspense'
The cast range from their 20s to 80s, and covers the spectrum of Cardiff's racial profile.
"It has been challenging to find people to fit the sheer range of ages and ethnic backgrounds in the show, but we felt it was important to reflect how Cardiff really is for our listeners," added Ms Plant.
"Obviously all of us are volunteers and people's circumstances and availability changes, but reflecting that in the storyline is all part of the challenge.
"One of the most exciting aspects is that it's a living thing. How we think the plot will develop may be totally different by Christmas. So if we're in suspense, then hopefully the listeners will be too."
Sophia Square started with a pilot episode on Radio Cardiff 98.7FM, at 11:00 BST on Saturday. It is repeated on both Sunday and bank holiday Monday, with two full series set to coincide with Black History Week in October and the Christmas holidays.