Roath Park Lake car: Woman charged over vehicle in water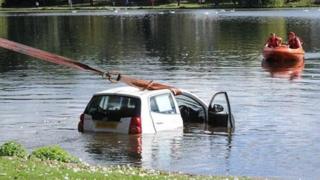 A woman has been charged with motoring offences after a car ended up in a boating lake in Cardiff.
The white Kia Picanto apparently veered off Lake Road West, and plunged into Roath Park Lake at 09:15 BST on Sunday.
A passer-by rescued the woman in the car, who was not hurt. Rescue workers took around two hours to pull the vehicle from the lake.
South Wales Police confirmed a 34-year-old woman had been charged with driving offences.
Roath Park Lake is one of Cardiff's most popular attractions, and is used by thousands of people to meet, walk and go boating.