£5.6m Newbridge Memo restoration milestone celebrated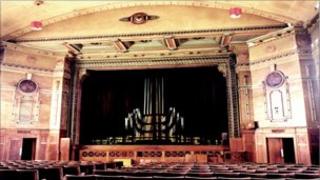 A ceremony has taken place to mark progress on the £5.6m restoration of a community building residents have spent nine years trying to save.
Work started in January on Newbridge Memorial Hall in Caerphilly county and the adjacent institute, and the slate roof has now been completed.
Trustees say Newbridge will again have a superb building - known as the Memo - used by a host of groups and societies.
The restoration forms part of a wider £12m regeneration of the town centre.
It was built by miners in 1925 to commemorate members of the local community who lost their lives in World War I.
It received national recognition as runner-up in the BBC's Restoration series which raised the plight of important buildings around the UK.
The adjacent institute opened in 1908 and included a billiards room, library, committee room and reading room.
Memo trustees' chair Howard Stone said Wednesday's topping-out ceremony was a "milestone in what has been a nine-year endeavour to restore these wonderful buildings".
He said they were built "by the huge efforts and small contributions of the local miner" and "the efforts of today's community volunteers are following this ethos."
On the ground floor, contractors from Seddon Construction are creating an information centre due to be leased to Caerphilly council.
On the first floor are multi-purpose community rooms and a Royal Air Forces Association office.
Stonework repairs
A new extension will link the two buildings and provide a new main entrance to the complex as well as staff office, new toilets and passenger lifts.
The contractors are now due to complete the installation of a slate roof and carry out brick and stonework repairs as well as clean the building exterior.
The first phase of the restoration is due to be completed in December.
Harry Andrews, leader of Caerphilly council, said: "A small group of dedicated volunteers have been instrumental in driving this long-awaited regeneration programme forward, and I greatly look forward to seeing the phase one completion of these landmark buildings over the coming months.
The Memo's supporters say it is one of the UK's finest surviving early 20th Century art deco cinema theatres, and it includes a large ballroom.
Entertainers such as Joe Loss, Clara Novello, Tom Jones, the Stranglers and Manic Street Preachers have all played there.
In 2006 Prince Charles made a special request to visit the building and threw his weight behind the restoration project.
Funding has also come from the European Regional Development Fund through the Welsh government, Welsh government's Targeted Match Fund, Heritage Lottery Fund, Big Lottery, Cadw, Trustees of the Institute and Memo and the Coalfields Regeneration Trust, among others.