Heart of Wales Line disruption near Knighton as train hits tree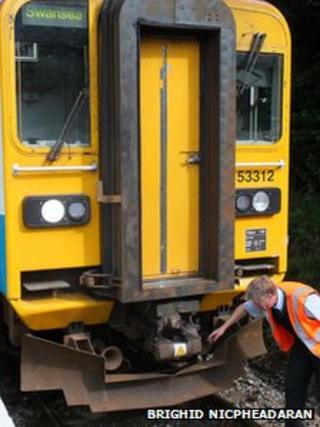 Passengers faced disruption after a train hit a tree on the Heart of Wales Line near Knighton, Powys.
Arriva Trains Wales said the driver of the 14:05 BST Shrewsbury to Swansea service reported striking the tree on approach to Knucklas station.
A spokesman said it caused some cancellations to services on Thursday, but there were no reports of injuries.
He added that the train was moved and debris cleared from the line by early afternoon.
Brighid NicPheadaran, who was a passenger on the train, said there had been a loud noise as the train hit the tree, which she believed had fallen onto the line after recent heavy rain.
"It sounded like we had hit a car, the noise was really loud," she said.
"We didn't know what we had struck. The engineer got out and ran down the track but he couldn't get the tree off the track.
"He got the train started and we limped into the station.
"He was excellent, as was the female conductor. They were very helpful and kept us informed about what was going on and nobody panicked."
She added that a bus was laid on for passengers to finish their journeys.