International Sheepdog Trials: Bonvilston's global draw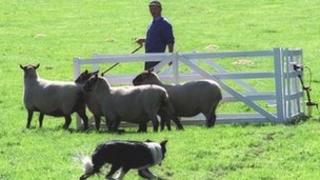 The world's leading sheepdog event is expected to attract more than 20,000 visitors from around the world to the Vale of Glamorgan this week.
Around 80 of the UK's best working dogs compete in the International Sheepdog Trials at Bonvilston from Thursday.
Event chairman Meirion Owen says there is growing overseas interest in a British farming tradition.
"We've got people from Japan, Australia, America, Canada and most European countries coming," he said.
The trials, which began in 1906, take place annually, rotating around England, Scotland, Wales and Ireland.
Wales last hosted the event in 2008 at Llandeilo, Carmarthenshire.
The Princess Royal and First Minister Carwyn Jones - president of the event - were among the dignitaries at the trials at Redlands Farm, Bonvilston.
Tradition
Mr Owen, who farms at Llanarthne, Carmarthenshire, said the standard of competition had risen dramatically over the years.
He said a world sheepdog event taking place every four years now attracts entrants from more than 20 countries, but the annual contest of the four home nations was still seen as the pinnacle.
Mr Owen, a familiar face on BBC TV's One Man and His Dog, said the growing number of overseas visitors were keen to learn from their British hosts and return home with more than just a few tips.
"Many of them will be looking for dogs to take back home with them," he said.
"Some of these countries have no tradition of using sheepdogs but it is something they're increasingly interested in adopting."
He stressed that all entrants were working dogs and evidence of a thriving branch of farming where the advances of modern technology had their limits.
"Everyone thought quad bikes would take over but they can't access the mountains," he said.
The Princess Royal flew in for the opening day and presented honours to the oldest and youngest trials competitors.
Mr Jones, who is president of the trials, visited in the afternoon.
There was an award for the oldest competitor, John Templeton, of Fenwick in Ayrshire, who has been trialling for 64 years and been a member of the Scottish team for a record 38 years.
The trials continue until Saturday.
The main attraction will be the crowning of a new supreme champion dog and handler.
There will also be a competition for young handlers and an international brace championship for handlers working with two dogs. This year's event will also include a food and country festival.
The Welsh team will be led by farmer Arthur Roberts, from Pentrefoelas, Conwy, and his dog Chip.
Mr Roberts has only missed one international since 1974, when he was best man at a friend's wedding.