Severn bridge dispute resolution, says Unite union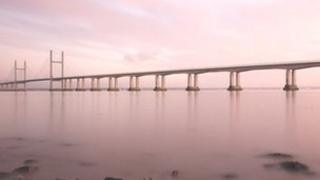 A dispute over shift patterns involving Severn bridges toll booth staff has been all but resolved, says a union.
The Unite union said only minor details remained outstanding and there was no longer any threat of industrial action.
The dispute had rumbled on over the summer with Unite claiming proposed shift patterns could have led to long queues at toll booths.
Severn River Crossing (SRC) said the dispute had been sorted out apart from "dotting the i's and crossing the t's".
About 70 toll booth staff voted in July for industrial action over concerns that new shifts would have on their work-life balance.
In August, a threatened 24-hour strike at the start of the bank holiday weekend was called off following progress in talks between the union and management.
SRC is obliged to keep the two Severn bridges between south Wales and England open and it is understood a strike would have meant a suspension of the tolls.
Jeff Woods, the Unite regional officer, said: "There's still different talks and little things [to sort out] but I'm very, very pleased to say we've diverted any strike action.
"Things have all settled down. We're still having meetings but the general mechanics is totally agreed and both sides are happy with the way things have panned out."