Abergavenny Food Festival hopes for fine weather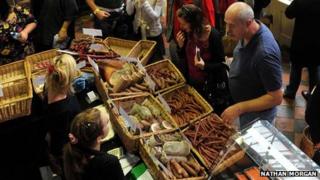 Organisers of the Abergavenny Food Festival are hoping for good weather to boost visitor numbers this weekend.
They said attendances last year were down by a fifth on the 30,000 people that normally come due to poor weather.
The festival includes more than 200 food stalls plus a range of talks featuring guests such as Kate Humble, Claudia Roden and Yotam Ottolenghi.
Programme director Martin Orbach said he hoped the festival was playing a part in promoting Abergavenny.
Gastro-tourism
Mr Orbach launched the Abergavenny Food Festival with fellow farmer Chris Wardle in 1999 in the wake of the BSE crisis in cattle.
He said they hoped they had helped boost the town's fortunes and those of local food producers by promoting Monmouthshire as a centre for gastro-tourism.
"We've raised the profile of Abergavenny certainly in terms of food, and there's a little nexus of well-liked restaurants in the area," he said.
"Monmouthshire has good connections with areas with money to spend, which may not be the case in other parts of Wales.
"Ticket sales have gone extremely well - last year we suffered from bad weather and were 20% down in numbers, but we hope to be back to around 30,000 visitors this year."
A key attraction of the festival will be a debate on the future of the high street and the power of supermarkets on Saturday at 18:00 BST.
"Quite a few towns around here are having arguments about development, such as the livestock market in Abergavenny," said Mr Orbach.
"These things are polarising opinion, with quite a lot of opposition from people who say it's important that the town retains its independent shops and retains its identity.
"But it would be good to examine what this idealisation of the high street is about - does it result in tourist shopping and elite shopping that isn't aimed at local residents?"
Supermarket impact
Panellists include investigative journalist Joanna Blythman - author of Shopped: The Shocking Power of British Supermarkets - and Chris Wade, chief executive of Action for Market Towns.
Another panellist - Rob Lyons, deputy editor of the Spiked news website and author of Panic on a Plate: How Society Developed an Eating Disorder - said he intended to stress the positive impact of major chains.
"Supermarkets are a very good thing," he said.
"They allow people to access a wider range of goods more cheaply and conveniently than in the past.
"The high street can adapt and survive if it does those things that supermarkets and online shopping don't do as well, in terms of offering personal service and speciality goods.
"And town centres need not necessarily be full of shops - we can't be like King Canute opposing these forces."
TV presenter Kate Humble will appear at the festival on Sunday with demonstrations from some of the cooks and food producers who are helping her turn a Monmouthshire farm into a centre for rural skills.
Other special guests include Tom and Henry Herbert, best known as Channel 4's Fabulous Baker Brothers.