Gypsy site action groups set up in Langstone, Newport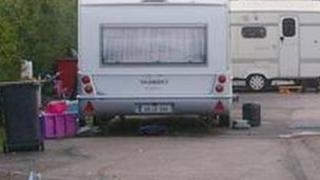 Action groups have been set up by residents to oppose proposals for new Gypsy and Traveller sites in Newport.
About 600 people objecting to plans for four proposed sites in Langstone and Underwood attended a meeting on Friday.
Newport council is consulting on a total of 11 possible sites across the city having dropped proposals for five other sites.
Gypsies and Travellers have said that small official family sites were the best way to help their community.
Conservative councillor Ray Mogford, who represents the Langstone ward, said so many people turned up at the meeting at the Hilton Hotel, Coldra, that many could not get inside the conference room.
"It's one of the most emotive issues I have experienced around here," he said.
"There was one person there who was for the plans but apart from that it was full of residents concerned about the proposals.
"Overall the meeting was well controlled, although some people did have passionate questions.
"Most people understand that Newport council are under obligation to put forward sites for the Gypsy and Traveller community.
"But a lot of people feel that these sites are not suitable for technical reasons and they have previously been turned down for other types of development."
Mr Mogford said residents raised concerns that one of the sites was on a flood plain while another had access issues.
He said other proposed sites are near ancient ruins and sites of scientific special interest and they threaten green areas.
Action groups have now been set up to oppose the sites, while petitions were being started, Mr Mogford added.
Following the local elections which saw Labour retake power in Newport from a Conservative-led administration, a cross-party project team was set up in June to re-examine the issue of Gypsy and Traveller sites.
After a long list of 220 possible locations was considered, consultation was launched on 7 September into a new list of 11 potential sites.
None of the five sites previously identified have been listed, including Yew Tree Cottages at Bettws, which was the subject of a protest march.
Gypsies and Travellers based in Newport told BBC Wales in February that the creation of small official family sites would be the best way to help their community.
Consultants working for the council have recommended that Newport needs 29 permanent pitches for Gypsy and Traveller families and 7 transit pitches.
Public views have been invited on the list of 11 potential sites via Newport council's website, which said that not all of the locations would ultimately be needed.
Newport council has said that a final list of proposed sites would be drawn up after the consultation period closed on 4 October.