Maerdy Community Centre 'heal rift' call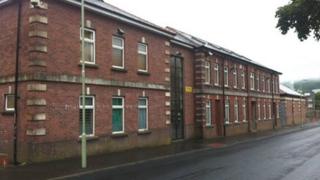 Calls have been made for an end to a rift between residents of a Rhondda town and those running its community centre.
Some residents, and local AM Leighton Andrews, claim Maerdy Community Centre is underused and non-inclusive.
The centre's operators have denied this, saying they want to provide facilities where groups can organise their own events.
Local councillor Keiron Montague urged both sides to work together.
The building, a former police station, has been used as a community centre since the mid-1990s, and over the years it has had more than £500,000 of public money spent on its improvement.
Earlier this year, the building was sold by South Wales Police Authority for £36,000 to the charity which runs Maerdy community centre.
But the sale was opposed by some residents of Maerdy and Mr Andrews, who told BBC Radio Wales he would ideally like to see the centre develop a more open culture and a willingness to involve a wider membership.
"There's a strong feeling in the community, and there has been for some years, that it is run by a small clique of people and it is very hard for ordinary members of the community to have influence over the direction of the facility," said Mr Andrews.
Maerdy is classed as a disadvantaged community in the Rhondda.
All Saints church just down the road from the community centre was recently finally closed after a year-long campaign to save it.
Otherwise, the community has a school and a building used by the local Communities First project.
There are no contact details on the community centre's website, no phone number or email addresses at the front door, and no list of activities easily visible.
But those who run the centre told BBC Wales no one has ever been turned away from using the centre.
They said that they saw themselves as a provider of facilities where groups could organise their own events.
They pointed to examples, such as a daily creche, a mother and toddler group and weekly martial arts and motorcycle clubs.
But the trustees of the community centre said they cannot organise events themselves.
Simon James, of Interlink, which supports voluntary groups in Rhondda Cynon Taf, said it was not unusual for community centres to find themselves underused.
"There's a lot of them which really struggle to find out what their role is, but certainly in the valleys there's a lot of old clubs which have been there and maybe the energy's lost on some of these things," said Mr James.
"The people running it have to be the people doing the activities there, so if you've got a zumba class you'd expect the person putting on the zumba class to be one of the trustees.
'Fantastic resource'
"You'd expect it all to work in harmony, really."
Two separate charities relating to Maerdy community centre were until recently listed with the Charity Commission, leading to what the commission has described as "discrepancies with its finances".
The commission said it had provided guidance to the charity about winding up one of the bodies.
The trustees of the community centre have told BBC Wales that the two bodies had existed so that the purchase of the building could go ahead. Now that had been completed, one had been wound up.
Mr Montague said he believed the building was a fantastic resource for the community and he wanted any historical difficulties to be overcome.
"On both sides there are reasonable people," said Mr Montague. "It's about creating that dialogue so that we can move forward.