'Dognapped' pup Buster back in Mitcheldean from Cardiff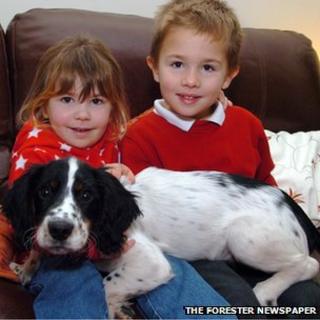 A cocker spaniel pup has been reunited with his family, 11 days after being stolen and ending up in a dog sanctuary 50 miles away.
Buster was on a walk with his owners when he was taken by a man in a white van at Mitcheldean, Gloucestershire.
Emma Jones, her husband and two children thought they had lost him for good before they received the news from Cardiff.
They were reunited because Buster has a microchip giving his owners' details.
Mrs Jones' five-year-old son, Oliver, had even written a letter to Father Christmas asking for Buster to be returned.
"I was on a shopping trip to Gloucester when I had the call to say he had been found," she said.
"I was in floods of tears and blubbing like an idiot in the middle of Debenhams."
She added: "It was a nightmare with a happy ending.
"As soon as he saw us he went mad and when he got back home he settled in straight away."
The family said they understood that a dog warden had recognised Buster in south Wales after his case was given publicity.