Cardiff City replace Iestyn Middle's stolen Christmas gifts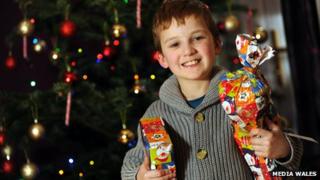 A young boy who this year has battled brain tumours, meningitis and had his Christmas presents stolen, finally has something to celebrate.
Iestyn Middle, seven, from Penygraig, Rhondda, has had his gifts replaced thanks to Cardiff City Football Club.
They have also invited him and his family to be guests of honour at City's match against Millwall on 29 December.
Iestyn's presents were stolen from the shed in his garden earlier this month.
The schoolboy's mother, Lisa, said Cardiff City was now her son's favourite team.
"We are converting Iestyn's bedroom into an en suite and so he was having lots of new things for it," Mrs Middle said.
Thieves smashed the lock on the shed door and made off with Iestyn's new Batman quilt, alarm clock and Lego toys.
The family had also stored toys in the shed for a fundraising event in aid of the children's cancer charity Latch - those presents were also taken.
"We couldn't believe it, we were devastated. What a horrendous thing to do," Mrs Middle said.
"Iestyn was very upset. He kept asking why people would steal his new things. He has been waiting for a year to have his new bedroom - he was devastated.
"There were a few little tears but he's ok now and continues to shine."
Iestyn, along with his parents and siblings Chelsea, 14, Ethan, 16, and 19-year-old Jordan, will also be guests of honour at the Cardiff City Stadium when the Bluebirds square off against Milllwall.
Mrs Middle said her son will also meet some of the star players and walk out on to the pitch.
Brave Iestyn has suffered more than most children in the past 12 months after opticians found tumours behind both of his eyes.
"We went to the optician who referred us straight away to the Royal Glamorgan Hospital where they did a CT scan and by 7pm that same night we were told Iestyn had a brain tumour," Mrs Middle said.
Iestyn was immediately transferred to the University Hospital of Wales, Cardiff, and three days later he endured nearly nine hours of brain surgery.
'Immune system'
"It was crazy," Mrs Middle said.
"Everything was happening at once. It was surreal - like we were looking down on what was happening rather than living it."
A couple of months later Iestyn had a further four-and-a-half-hour operation to remove new tumours.
Just three weeks after that operation, in May, Iestyn contracted meningitis.
"He was really, really ill, even more than he was with the brain tumour," Mrs Middle said.
"His immune system was very low as well."
But despite his illnesses and the burglary, Iestyn has remained positive.
"Nothing will get him down," Mrs Middle said.
"We go to pieces but not Iestyn."
Iestyn is now tumour-free and will continue to have scans every six months for the next five years.
Julian Jenkins, from Cardiff City Football Club, said Iestyn was "over the moon".
"We saw the story and we really wanted to help," Mr Jenkins said.
"Iestyn and his brothers and sisters have huge goodie bags to open on Christmas Day."