Cardiff hit-and-runs: Karina Menzies' gifts for girls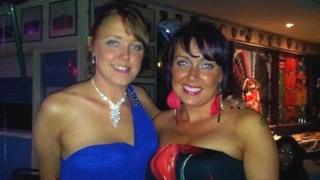 A woman who is bringing up her three nieces after their mother was killed in a series of hit-and-runs in Cardiff says the girls will have some Christmas presents to be labelled "from Mum".
Samantha Menzies said her sister Karina had already bought gifts for her daughters before she was fatally injured by a van in October.
She said the gifts are "the last thing she'll ever be able to give them".
A 31-year-old man has been charged with murder and other offences.
Ms Menzies, 26, said she plans to make Christmas for her nieces as good as it can be without their mother.
She told BBC Radio Wales: "I am excited about Christmas but at the same time I feel sad as well because it will be their first Christmas without her and that's going to be tough.
"But I will put all my energies into keeping her memory alive and into the girls being involved at the cemetery - decorating her grave, making decorations for the tree - so they feel close to her.
"All my energies will go into that - making sure they have a really good Christmas, as well as it can be without their mum."
She said her sister had already bought "quite a lot of presents" for her daughters.
"They are going to be labelled "from Mum" because they are from mum. And I'm going to make sure they enjoy their presents and enjoy the day.
"They are definitely going to know they are from Karina because that was the last thing she'll ever be able to give them. So I'm going to make sure that happens."
Thirteen adults and children were injured in collisions in Ely and nearby Leckwith in October.
Karina Menzies, a single parent, had been on the school run with her two younger daughters, Ellie, eight, and Tiana, two, when she was killed outside Ely fire station.
Her eldest daughter Sophie was on holiday in Florida at the time.
Samantha Menzies said the family were still coming to terms with her sister's death and its aftermath.
She said: "It's been a nightmare, to be honest. But, at the same time, the strength we've all drawn, from the community and other people, that's a good thing.
"Something good has come out of it, which is hard to believe I could say that. It has brought Ely as a community together and the wider community."
Samantha Menzies, a nursery nurse, lives with partner Lee, 40, and his three children aged 16, 13 and 11 from a previous relationship in a three-bedroom terraced house in Ely.
She said: "We're just taking it day to day. Different emotions are coming out.
"Different things are happening in the house, which we've all got to adjust to - we're not used to living with each other."
She said the girls were "doing really well" although they were happier during the day when they are more occupied.
"In the night time, when it's calm, it's quiet and they've got more time to think what's happened, what's going on, their feelings come out more," she said.
But she added: "They are just so strong. They are really strong, all three of them."
Matthew Tvrdon, 31, has appeared in court accused of murder, attempted murder and assault. He faces a total of 19 charges, including murder, 13 counts of attempted murder, four counts of assault occasioning actual bodily harm, and one charge of dangerous driving.