Gay bishops: Peter Tatchell urges Jeffrey John appointment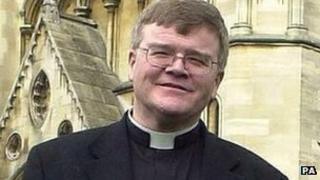 Gay rights campaigner Peter Tatchell says he hopes a gay Welsh cleric can now become an Anglican bishop after the church relaxed its stance on the issue.
Jeffrey John, from Tonyrefail, turned down the post of Bishop of Reading in 2003 amid a row over his homosexuality.
The Church of England's House of Bishops now says it will allow gay clergy to become bishops if they promise to remain celibate.
Gay people in civil partnerships who are celibate can already become clergy.
Dr John, now Dean of St Albans, initially accepted the post of Bishop of Reading but then declined it in the face of protests from traditionalists.
He was also a candidate for Bishop of Southwark in 2010 but was rejected, with evidence emerging it was because of his sexual orientation.
In July last year, the House of Bishops (HoB) said it would review a decision, made in 2005, to allow the ordaining of openly gay clergy to consider whether they should be allowed to become bishops.
'Significant development'
The announcement has prompted mixed reactions within the church, but it was welcomed by Mr Tatchell.
"Any move to lift the ban on gay bishops in civil partnerships is a welcome move towards greater equality within the church," he said.
"However, the lack of official statement from the House of Bishops or the Archbishop of Canterbury is perplexing.
"If the policy has been changed, it is a significant development and should be officially confirmed by Anglican leaders.
"I hope this means the way is now open for Jeffrey John to be appointed as a bishop."
Dr John is the most senior openly gay Church of England cleric.
He entered a civil partnership in 2006 with his partner of nearly 40 years, but is understood to live a celibate life.
In January 2012, he was reportedly considering legal action against the church for alleged discrimination.
He has yet to comment on the decision to allow gay bishops in the Church of England.