Medal comfort after skater Richard Taylor's heart donation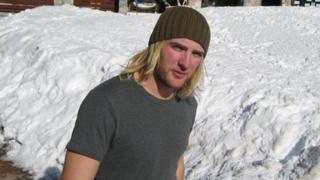 The mother of an in-line skating champ killed in an accident says it is a comfort to know his heart was donated to a man who later won a British Transplant Games gold medal.
The winner gave Richard Taylor's mother Gaynor the medal in thanks, and she keeps it hanging over her bed.
Richard Taylor, 23, became UK in-line skating champion for the second year running weeks before his death in 2004.
He hit a lamp-post going down a steep hill in Barry, Vale of Glamorgan.
He was not wearing a safety helmet and did not wake up from a coma before his life-support was switched off at University Hospital of Wales, Cardiff.
His family were asked if they wanted to donate his organs minutes before they learned he had already signed up for organ donation.
Mrs Taylor said she has since learned a few details about some of the six people who benefited from her son's organs.
One of them was the man - whose identity has not been revealed - who dedicated his British Transplant Games gold medal win to her son and who sent her the medal to keep.
Mrs Taylor said the receiving the medal has helped her come to terms with the loss of her son.
She said: "I struggled in coping with Richard's death. The fact that he wanted to give it to me, it opened the floodgates for me and helped me move on.
"It means Richard's success is going on. He doesn't live on but his spirit lives on.
"It's a comfort that he even thought about donating his organs."
Her son won a title in the British Freestyle Skiing and Snowboarding Championships in the year he died and was about to be signed up by a professional ski team.
Mrs Taylor said another recipient of her son's organs was the critically ill mother of a 10-month-old baby and a young daughter.
Both she and the medal-winning man were expected to live no longer than 48 hours before their transplants, she said. The mother's life was saved after she received his liver.
Optout system
Mrs Taylor said: "It was that that really affected me and made me realise how organ donations affect the whole family.
"That little girl now has a mother and she would not have had one otherwise. So that how important it was."
Mrs Taylor said her son's pancreas and one of his kidney's went to a diabetic father-of-two with renal failure, while the other kidney went to woman.
One of his corneas went to a young girl and the other to an older man.
Mrs Taylor backs the Welsh government's plans change organ donation in Wales to an "opt-out" system. It would mean everyone is considered to be a willing organ donor when they die, unless they have stated otherwise.
Evidence suggests such systems elsewhere brought a 13-18% rise in donations.
Ministers tabled the Human Transplantation (Wales) Bill in December 2012 to introduce presumed consent in organ donation. If passed by the Welsh assembly it could come into force by 2015.