British Airways flight from Houston makes emergency landing at Cardiff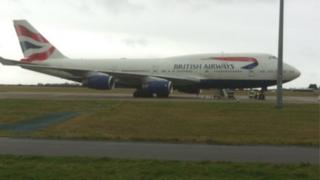 A British Airways jumbo jet flying from Houston in the United States to Heathrow has taken off again after making an emergency landing in Cardiff with 138 passengers on board.
BA said the pilot noticed a "potential minor technical problem" while the airport said the jet diverted "under a full emergency".
The Boeing 747 landed normally at 10:43 GMT and was assessed by engineers.
It took off at 13:30 GMT to complete the journey to Heathrow.