Dutch king-in-waiting congratulated by Atlantic College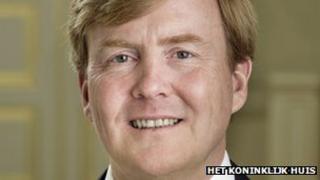 Prince Willem-Alexander of the Netherlands has been sent "heartfelt congratulations" by his old Welsh school on the news he will become king.
The Crown Prince of Orange went to the international sixth form Atlantic College near Llantwit Major in the Vale of Glamorgan from 1983 to 1985.
Queen Beatrix, 75, has announced she will abdicate in her son's favour on 30 April.
The prince, 45, will be invested as king in a ceremony on the same day.
A college spokeswoman said the prince had been due to visit the college weeks before the investiture, but that may now be rearranged following the announcement.
'Blended in'
Prince Willem-Alexander had previously attended schools in the Netherlands but went to Atlantic College when he was 16.
Like all the students there, the prince sat the International Baccalaureate, which involves a mix of academic and vocational work.
Adrian Disney, a former student now teaching biology at the school, shared a dormitory with the prince, who was known to some of his teachers as Alex.
He remembered the prince as "quite relaxed and laid back".
"He certainly enjoyed his time here," said Mr Disney. "It was probably the first time he'd been able to go out and enjoy himself without being recognised."
Mr Disney said the prince's chief academic interest had been history, which he went on to study at university, but like all the students he became involved with community service.
"He was part of the lifeboat service and used to take a blind group, teaching them to swim and canoe," he added.
Mr Disney said that although the prince was undoubtedly one of the most privileged students there, he blended in with the others.
"You wouldn't have identified from his behaviour that he was at the posh end of the spectrum."
John Walmsley, the college principal, said: "Our alumni go on to achieve many different things, from founders of charities to Olympians, astronauts, politicians, global business leaders and environmentalists.
"We offer our heartfelt congratulations as Willem takes over as monarch.
"At Atlantic College he studied with students from over 90 different nationalities and from a wide range of backgrounds and we are confident that his experience here will stand him in good stead for his new challenge as king."