Robbie Morgan denies causing crash which demolished house in Nelson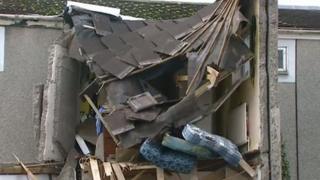 A teenage driver who demolished a house driving his father's four litre Jeep Cherokee after a party has told a jury the accident was not his fault.
Robbie Morgan, 18, of Treharris, near Merthyr Tydfil, swerved off the road, ploughing into the terraced house at Nelson, near Caerphilly.
The teenager, who denies dangerous driving, told Newport Crown Court another driver pulled out in front of him.
He said he had no option but to swerve.
An 18-year-old pedestrian was seriously injured in the crash in December 2011 when Mr Morgan was allegedly driving at speeds of more than 60mph.
'Split second'
He told the court another motorist was to blame for the crash.
"The accident was because she pulled out in front of me - I couldn't do anything to avoid it," he told jurors.
"I never expected anyone to pull out on me. It was a very quiet night and there weren't many cars on the road.
"I couldn't have noticed the car any earlier - it appeared all of a sudden and I only saw it for a split second," he said.
"She came from a parking space and obstructed my path. At that point I did my very best to veer off and brake.
"I had no other options - if I hadn't veered I would have collided straight with the vehicle.
"I was trying to keep the jeep under control, I was trying to avoid an accident.
Party
"I was trying everything I possibly could to avoid an accident, if there was any more I could have done I would have done it.
"The last thing I recall is going towards the house and then the car's final resting place."
The court heard how the defendant had been at a sixth form party and left with school friends to pick up some food and cigarettes from a garage.
Prosecutor Jonathan Howell told him: "You had two young friends in the car, you were on the way to a petrol station and you wanted to get there quickly.
"So you put your foot down and your speed, coupled with your inexperience of driving this powerful car, led to this accident."
But the prosecution said the Renault Megane was in the middle of the road and was waiting to turn right into a side street, claiming Mr Morgan saw it too late because he was going faster than the 30mph limit.
Kelly Anne Thomas, who was a passenger in the car, told the court: "The Jeep came from nowhere and as quickly as it appeared it hit us."
The court heard how the vehicle came off the road and hit Geraldine Downy, who was thrown 15 foot into the air and seriously injured.
The Jeep then smashed into the home of Lucie Flowers, who only avoided being hit because she was upstairs watching TV.
Mr Morgan said he was driving within the speed limit.
The trial continues.