Age Concern Cardiff and Vale closes both charity stores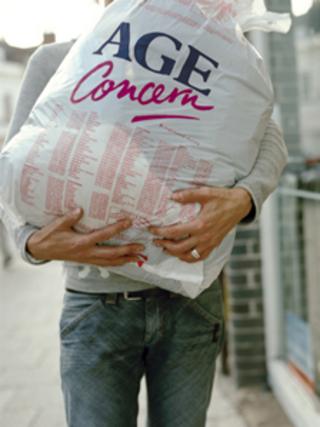 A Cardiff elderly care charity has closed its second and last store blaming "the squeeze" from clothes banks willing to pay by weight.
Age Concern in Cardiff and the Vale shut its shop in Whitchurch, Cardiff, with the loss of five jobs.
Its store in Birchgrove, which had a pay-by-weight competitor in the same street, shut in December 2012.
Chief executive Jeff Hawkins said: "We have no plans to re-enter the retail market until conditions have altered."
Set up in 1974, the independent charity, which has 64 full and part-time staff and 380 volunteers, has run a retail arm in Cardiff for about 20 years.
Its two high street stores have helped fund work which includes support for elderly people living in poverty, emergency grants, welfare rights advice and a hospital after-care service.
But it cited a drop in sales for two years running as it shut its retail operation.
The charity said it was facing a "triple whammy" of shoppers' decreased spending power, a drop in public sector funding and the squeeze from charity sector competition.
Mr Hawkins said that before the Birchgrove store closed, staff there saw people taking large quantities of clothes, carrying three or four bags at a time, to a nearby clothes bank where they would be paid by the weight for what they brought in.
He said: "It was having a direct effect because it was a couple of doors from us. More generally, people are finding an awful lot more of plastic bags shoved through their door from collection services. These are having an effect."
Bargain hunters
The charity took the decision to wind up its retail outlets after looking at the wider retail landscape, said Mr Hawkins.
He said: "The footfall to those areas has now dropped as the areas have altered. With the number of vacant units, there is very little of what you might call traditional shopping.
"There's a changing situation in terms of retail generally and much more competition for recycled goods."
Wales now has more than 500 charity shops, a rise of about 60% since the start of the economic downturn in 2008.
Mr Hawkins said the "significant investment" in retail outlets by large national charities was also a problem.
He said: "People used to shop in charity shops because they had an affinity with the charity. Now they shop for a good deal, good bargains and interesting items.
"National charities have a lot more resources for advertising and local collections. Small local charities like our cannot compete with that. The overheads are too high to make a profit.
"As far as the expansion of national charities is concerned, if that was to continue it is not something we can compete with."
In addition, some of the charity's public sector funders, including local authorities and health boards, have said they will cut their grant in order to save costs, he said.
The charity will now focus on other forms of fundraising and donations to ensure its income.
Mr Hawkins added: "I would urge the public to seriously consider where their money and charity shop donations are going.
"Local charities are vital in providing valuable, practical help to those in living in their communities.
"Many of these charities are finding it very difficult to raise money and with increasing demand for services it is so important they get financial support to allow them to keep responding to growing local needs."