Cardiff Riding School: Council denies closure plan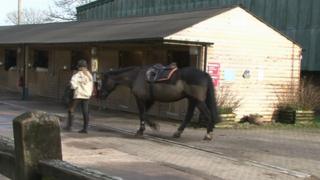 Cardiff council has denied that it plans to close a popular city riding school and says it will remain open until an operator can be found.
Staff at council-run Cardiff Riding School said last week they had been told the site at Pontcanna Fields would shut by 1 April.
But the council said there had never been any intention to close it.
The council says it is looking for another organisation to run it and there are no plans to sell the land.
Supporters of the riding school, which has 50 horses on the 30-acre site, protested outside a council meeting last Thursday, which led to it being halted for 15 minutes to meet the demonstrators.
Cardiff council has now said: "We would like to clarify the situation in relation to Cardiff Riding School as we are aware there are concerns within the community.
"There has never been any intention to close the school and it will remain open until the council has secured a third party to operate the facility. Work is already under way to take these plans forward.
"We would also like to make it clear that there are no proposals to sell off the land associated with the school for future development and that Cardiff Riding School will remain in its current home."
But Plaid Cymru group leader Councillor Neil McEvoy said the proposal to close the riding school was included on a list of budget savings on the council's own website.
"It's there is black and white, they can hardly deny there was a plan to close it," said Mr McEvoy.
"This is the quickest of u-turns."
Selling an island
Opened in 1970, the school offers riding for children and adults and specialises in providing riding for disabled people.
Cardiff council is trying to save £110m overall with plans including closing a swimming pool, stopping school music subsidies, cutting library hours and even selling an island.
The authority will freeze council tax next year, but will cut 300 jobs and many services to balance the books as it seeks to protect frontline services.
There is said to be more money for schools and social services.