Christopher Carlyon: Pontycymmer's unsung aviation pioneer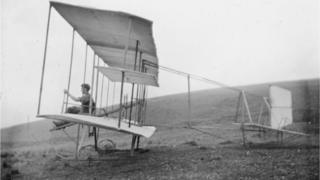 In the first decade of the 20th Century, a year after the Wright Brothers' historic first controlled flight, a young colliery worker from south Wales set out to design and build his own aircraft.
Had Christopher Howard Carlyon succeeded in his dream of flying his glider across the Garw valley near his home in Pontycymmer, his name might now sit alongside Cardiff airship builder Ernest Willows and Monmouth flyer Charles Rolls in the pantheon of Welsh aviation pioneers.
But after years of painstaking work Carlyon's aircraft was destroyed in a storm before he could prove that it would carry him across the valley.
Soon afterwards he went to war in France and was badly injured. He returned home dogged by depression and died aged 59 from war-related injuries.
For years word of mouth spread through the valley about an eccentric who once built an aircraft in a shed in a field at the top of the mountain above Pant-y-gog.
The rumour caught the ear of T Merlin Maddock, a modern day inventor and carpenter from Pontycymmer, who set out to uncover Carlyon's story.
Now, a century after Carlyon's dream died, Mr Maddock, a 78-year-old widower, is rebuilding his glider from scratch and hopes to prove, with the help of a pilot, that it can fly.
Friend's funeral
Mr Maddock first heard of Carlyon as a child when his father returned from a friend's funeral.
"He pointed up the mountain and told me about this man who built a glider up on Coedcae field," he recalls.
A trawl through local newspapers and libraries both locally and in London turned up no mention of his father's friend as a recognised aviator.
But after tracking down his sons Bryn and Raydon in nearby Bryncethin, Mr Maddock discovered glass slide images documenting Carlyon's project and his story began to take shape.
Carlyon was born in Aberdare in 1888 and moved to Pontycymmer at the age of three. At 13 he followed his father and elder brother into Ffaldau Colliery, becoming a time-served carpenter.
Mr Maddock believes he began work on the glider in 1904, perhaps after reading about the Wright Brothers in the local workmen's institute, and studying pictures of their aircraft.
"They also came to London around this time," he says. "Maybe he went on the train to look at their plane."
Ambition
The scale of Carlyon's ambition became immediately clear.
"The plane he built was bigger than the shed he kept it in and he had to break it down to fit it inside," says Mr Maddock.
"But he had to climb 400ft up the mountain to build the shed to start with. That would have taken him maybe a year."
Mr Maddock says he believes Carlyon was supported financially by his father, who ran a grocer's, and he learned from his own father that the glider was destroyed in the biggest storm to hit the area in years - the great storm of 1910, he assumes.
"When Carlyon saw the wreckage of his glider it must have broken his heart," he says. "So I want to prove his principle works."
After recreating scale models of the glider from the glass slide images, Mr Maddock is now building the real thing.
It is no easy feat for a man with a heart condition and Parkinson's disease, but he is determined to get the glider off the ground. Just six or 10 feet will do, he says, adding: "I don't want anybody to get hurt."
Raydon Carlyon, 72, was seven when his father died and has few memories of him, but grew up hearing glider stories.
"My mother told me my father wanted to put an engine in it but his father wouldn't give him the money," he says. "His father thought he was nuts. A lot of people did.
"What Merlin is doing with this is absolutely fabulous. It's very, very touching. It would be fantastic if it got off the ground."
Aviation engineering expert Prof David Kennedy of Cardiff University puts Carlyon's efforts into historical context.
"The dream of flight caught many people's imagination in the early years of the 20th Century," he says.
"While many of the pioneers were amateurs, they would have needed a lot of technical knowledge to design a flying machine, as well as the resources, time and patience to build it and fly it.
"It is remarkable that a colliery worker in south Wales could have made so much progress working in apparent isolation."
Mr Maddock, who by dint of fate found he had set up business in the same address at which Carlyon once lived, is determined the budding aviator should receive the recognition he deserves.
"I'll prove the man was brilliant," he says.
"The only education he had was at his local school but he might have become one of the leading aviation pioneers in his time because he designed and built this glider all on his own."