School closures in Vale of Glamorgan feared by parents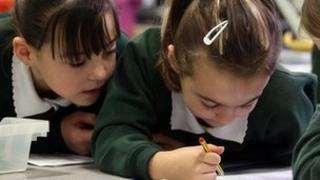 Parents in the Vale of Glamorgan fear the county council is planning to close primary schools in a reorganisation aimed at cutting spare places.
The council says almost 15% of places were vacant at the start of the school year - 5%, or roughly 530 pupils - more than Welsh government guidelines.
Vale of Glamorgan MP Alun Cairns said closures could "leave a gaping hole in community life".
The council said a report outlining proposals will be discussed on 4 March.
Parents of Llanfair primary, near Cowbridge, packed a meeting on Wednesday after hearing it was being recommended for closure.
They say governors were unable to give them any assurances.
Emma Boulton, whose daughter has just started at Llanfair primary, claimed the school - and another nearby - were under threat despite being in the top 3% of Welsh schools.
'Success'
She said: "Our children are very happy there and doing their best.
"The council should be trying to emulated the success of these schools.
"It is very difficult to understand. They're trying to rip the heart out of rural communities."
Local MP Alun Cairns said he was "very concerned" at the prospect of some school closures.
"There are rumours about a number of schools and the Vale council needs to publish its report stating clearly their case," he said.
"We will then do all possible to answer the issues raised.
"These schools are the centre of many communities and closure would leave a gaping hole in community life."
Welsh Conservative leader Andrew RT Davies, a past pupil and former governor of the school, said: "Each of my four children have attended Llanfair and I can only express my utter dismay at the thought that the Vale council would earmark it for closure.
"I commend the parents, teachers and governors for the spirit and enthusiasm that they are willing to dedicate to the fight to keep the school open."
Chris Elmore, Vale of Glamorgan cabinet member for children's services, said: "The report will recommend a number of changes to how schools are organised in the Vale to make sure we have the right schools in the right places for the future and make the best use of our resources."
The council says any proposals will be subject to "extensive consultation with parents and other stakeholders".