Protest over threatened Brynmawr cinema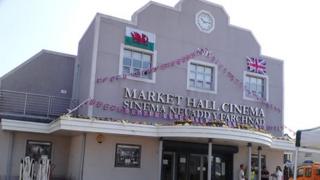 Campaigners claim 4,000 people have signed a petition in support of a south Wales valleys' cinema dating back to 1894 which is threatened with closure.
Brynmawr cinema in the market hall could see its funding cut later this year.
Blaenau Gwent council said the contentious proposals have to be considered due to unprecedented UK government cuts.
A protest was held at in the market square on Saturday.
Andrea Durban, who organised the protest, said people were upset to learn the cinema could close.
"It's a comfortable, warm, cosy cinema and although lots of people are going to the big multiplexes, we've got nearly 4,000 signatures on our petition to keep it open.
High unemployment
The cinema is believed to be the longest continuously run one in Wales, she said.
"As far as Brynmawr is concerned it's a historic building.
"They're building a new cinema at the works in Ebbw Vale, but we live in an area of high unemployment and families of two, three or four kids can't afford to get there.
"People who are carers also go there with the people they look after every Wednesday without fail - it's difficult for them to go further afield."
Deputy leader of Blaenau Gwent council Stephen Thomas said: "This year's budget is a budget unlike any other.
"As a result of the spending cuts passed to us from central government, we have to find considerable savings and there is more pressure to come in future years.
'Stark choices'
"The closure of Brynmawr cinema are possible cuts for members to consider as they strive to balance the books in extremely difficult circumstances.
"Given that we have protected education and social services as priorities, it is inevitable that the council is facing some stark choices and some of the proposals will undoubtedly be contentious.
All Welsh councils are facing the same issues that we are, council departments have been tasked to go away and look at the services they provide and come up with proposals which, among other things, reflect the authority's corporate strategy.
Mr Thomas said: "Once again, I would stress that these cuts are not through choice, but because of the dire financial situation we are in."
If the decision to close the cinema is taken, the council will would welcome suggestions about the future use of the building.
A council spokesman said: "2013/14 is a challenging year for all of us, not just at this local authority.
"Financial savings are required everywhere and, in order to achieve these, this council has already made provisional plans for £1m of savings for the next financial year.
"However, there are still a number of savings proposals being formulated for consideration later this month."